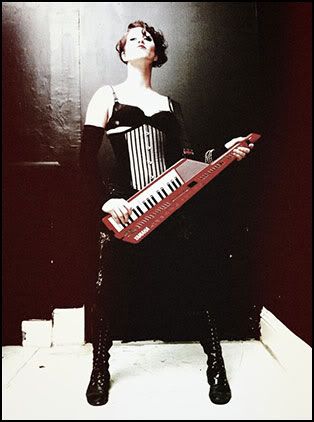 Time for a post to venture outside of the local music scene and talk about a much more well known artist but definitely not mainstream artist. I have been a fan of Amanda Palmer's music since a friend showed me
The Dresden Dolls "Coin Operated Boy"
and I fell in love with their completely unique at the time punk-cabaret theatrical musical style. Though my following of Amanda Palmer's music whether with her band or solo career has wained as nothing really lived up to the awesomeness of The Dresden Dolls self titled debut album. I didn't even know Amanda Palmer had already put out a second solo record and this wildy successful
kickstarter
I am part of is for her third solo release.
Though what Amanda Palmer has put out in the world so far for her release this fall for Amanda Palmer & The Grand Theft Orchestra's album "Theater is Evil" has me more excited than ever before for a new release of her music. There is a grand scale to some songs and a bit of an 80's new wave feel to her first single, "
Do It with a Rockstar
" while having the most punk rock aggression I have heard from her in a while.
Amanda Palmer also just released a music video for the song "Want it Back" is just fucking fun and catchy as fuck song with an extremely cool stop-motiony music video that is NSFW as Amanda Palmer has never been one to shy away from nudity and her own nudity at that. So watch the embed of the video below and enjoy...